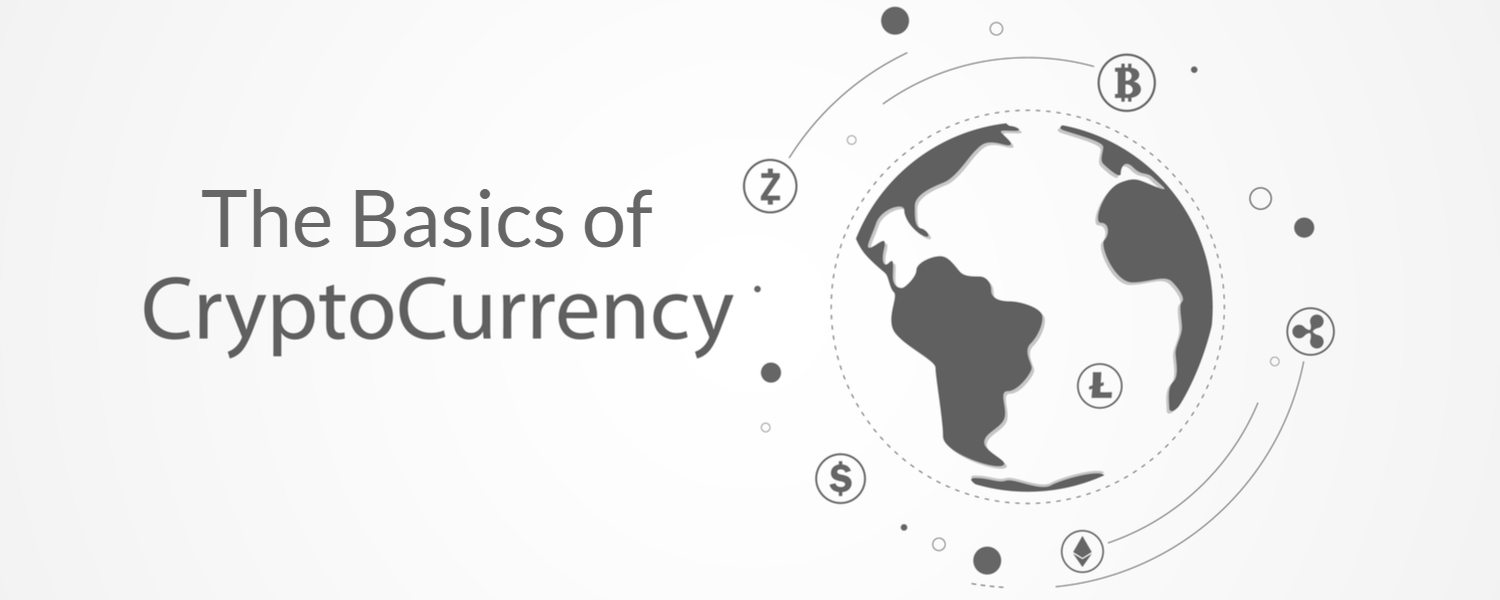 Cryptocurrencies, or virtual currencies, are a means of digital exchange. Cryptocurrencies were created and are used by private groups or individuals. Because of the fact that national governments don't regulate most cryptocurrencies, they are considered as alternative currencies, mediums of financial exchange which exist beyond the bounds of state monetary policy.
The dominant cryptocurrency is Bitcoin. It's the first to be widely used. However, there are hundreds of existing cryptocurrencies, and more created every month.
In this guide we will cover the basics of Cryptocurrency, to help you better understand this ever-growing digital asset. 
What's Cryptocurrency?
Cryptocurrencies use cryptographic protocols. These protocols are extremely complex code systems that encrypt sensitive data transfers, securing their units of exchange. The cryptocurrency developers build these cryptographic protocols on advanced mathematics and computer engineering principles that render them virtually unbreakable. Therefore to counterfeit or duplicate the protected currencies. Also, these protocols conceal the identities of cryptocurrency users. Concealing the identities makes transactions and fund flows difficult to attribute to specific groups or individuals.
Decentralized control
Also, cryptocurrencies are marked by decentralized control. The supply and value of cryptocurrencies are controlled by extremely complex protocols built into their governing codes and their users' activities. It is not by the deliberate decisions of central banks or other regulatory authorities. Specifically, the activities of miners, the cryptocurrency users who leverage huge amounts of computing power for recording transactions, receiving cryptocurrency units that are newly created and the transaction fees that other users pay in return, are essential for the smooth function and the stability of the currencies.
Importantly, cryptocurrencies are exchangeable for fiat currencies in particular online markets, meaning that each has a variable exchange rate with one of the major world currencies (such as the U.S. dollar, European euro, British pound, and Japanese yen). You need to know that cryptocurrency exchanges are slightly vulnerable to hacking. They represent the most common venue for theft of digital currency.
Finite supply
Most, but not all of the cryptocurrencies are characterized by a supply that is finite. In their source codes are the instructions outlining the precise number of units of the cryptocurrency that can and will ever exist. Over time, it becomes more challenging for miners to produce cryptocurrency units. This is until they reach the upper limit and the new currency desists altogether to be minted. The finite supply of cryptocurrencies makes them inherently deflationary, more similar to gold and other precious metals, which have limited supplies, than fiat currencies, which central banks can, in theory, produce an unlimited supply of it.
Because of their political independence and essentially their impenetrable data security, cryptocurrency users can enjoy the benefits that are not available to users of traditional fiat currencies, like the U.S. dollar, and the financial systems that those currencies support. For example, whereas a government can easily freeze or even seize a bank account that is located in its jurisdiction, it is tough for it to do the same with funds that are held in cryptocurrency, even if the holder of the cryptocurrency is a citizen or legal resident.
On the other hand, there are a host of risks and drawbacks associated with cryptocurrencies that don't affect many fiat currencies. Examples are value, volatility, and illiquidity. Also, cryptocurrencies are frequently used for facilitating grey and black market transactions. Because of this, many countries view them with outright animosity and distrust. Some proponents tout cryptocurrencies as being potentially lucrative alternative investments. However, there are few serious financial professionals who view them as being suitable for anything other than pure speculation.
T&C's apply to each of the offers above, click "Visit Site" for more details.

Advertiser Disclosure: TopBrokers.Trade is an independent specialized comparison site funded from the referral fees from the sites that it promotes. TopBrokers.Trade receives compensation from the brokers' sites and advertisements it features. Thanks to this compensation, we can provide you a free comparison tool. TopBrokers.Trade is not able to display and feature information about all the available broker sites or broker site offers.

Risk Warning: Users should be aware that all investment markets carry inherent risks, and past performance does not assure future results. Trading of any kind is a high-risk activity, and you could lose more than you initially deposited. Please be sure you thoroughly understand the risks involved and do not invest money you cannot afford to lose. Your capital is at risk.