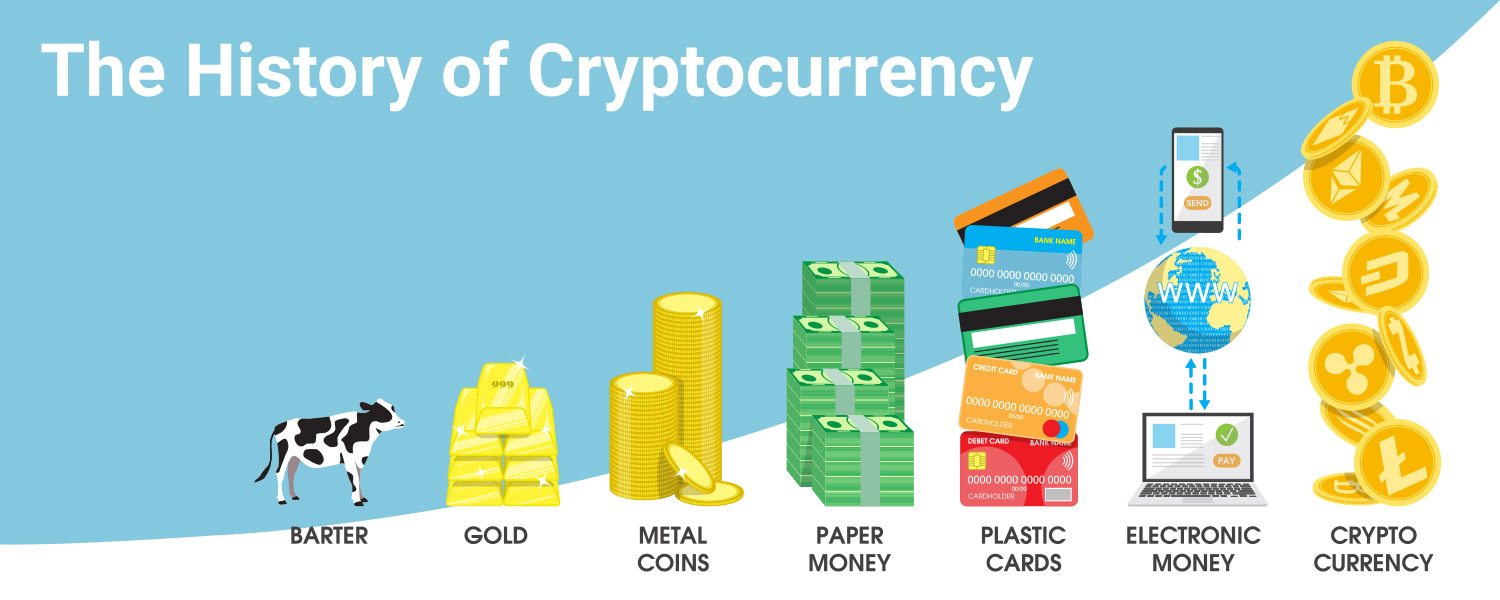 Cryptocurrency existed as a theoretical construct for a long time before the first digital alternative currencies came onto the scene. The early proponents of cryptocurrency shared the goal of applying cutting-edge computer science and mathematical principles to solve what they perceived as being practical and political weaknesses of "traditional" fiat currencies. In this section of our introduction to Cryptocurrency, we will take a look at the history of Cryptocurrency and how it came to be what it is today.
Technical Foundations
We can date cryptocurrency's technical foundations back to the early 1980s, when David Chaum, an American cryptographer, invented a "blinding" algorithm which remains central to modern web-based encryption. The algorithm allowed for unalterable, secure information exchanges between the parties. This then laid the groundwork for future electronic currency transfers, known as "blinded money."
By the late 1980s, Chaum had enlisted a handful of other cryptocurrency enthusiasts to try to commercialize the concept of blinded money. After his relocation to the Netherlands, he founded DigiCash, a for-profit company. DigiCash produced units of currency based on the blinding algorithm. Importantly, the control of DigiCash was not decentralized, as is the case with Bitcoin and most other modern cryptocurrencies. With DigiCash, it had a monopoly on supply control, similar to the monopoly of central banks on fiat currencies.
Initially, DigiCash dealt directly with individuals. However, the Netherlands' central bank cried foul and repressed this idea. Since it was faced with an ultimatum, DigiCash agreed to sell only to licensed banks. This, then, seriously curtailed its market potential. DigiCash went out-of-business in the late 1990s.
Around the same time, Wei Dai, an accomplished software engineer, published a white paper on b-money, a virtual currency architecture. It included many of the basic elements of modern cryptocurrencies, like decentralization and complex anonymity protections. However, b-money was never used as a means of exchange.
Shortly after that, Nick Szabo, a Chaum associate, developed and released a cryptocurrency called Bit Gold. This cryptocurrency was notable for using the block chain system which underpins most of the modern cryptocurrencies. However, Bit Gold did not gain popular traction, and it's no longer used as a means of exchange.
Pre-Bitcoin Virtual Currencies
Following DigiCash, most of the research and investment in electronic financial transactions moved over to more conventional, though digital, intermediaries, like PayPal. There were a handful of DigiCash imitators, like Russia's WebMoney, which sprang up in different parts of the world.
In the United States, the most well-known virtual currency of the late 1990s and 2000s was e-gold. A Florida-based company of the same name created and controlled e-gold. e-gold, the company, essentially functioned as a digital gold buyer. e-gold's customers, or users, sent their old jewellery, coins, and trinkets to e-gold's warehouse, receiving digital "e-gold," units of currency that was denominated in ounces of gold. Users of e-gold could then trade their holdings with other users, cash out for real gold, or they could exchange their e-gold for U.S. dollars.
In the mid-2000s at its peak, e-gold had millions of active accounts, and it processed annually billions of dollars in transactions. Unfortunately, the relatively lax security protocols with e-gold made it a popular target for phishing scammers and hackers, leaving its users vulnerable to financial loss. By the mid-2000s, a lot of e-gold's transaction activity was legally dubious. The e-gold platform faced growing legal pressure during the mid- and late-2000s. It finally terminated it operations in 2009.
Bitcoin and the Modern Cryptocurrency Boom
Bitcoin is widely considered as the first modern cryptocurrency. It is the first publicly used means of exchange that combines decentralized control, record-keeping, user anonymity via a block chain, and built-in scarcity. Bitcoin was originally outlined in a 2008 white paper that Satoshi Nakamoto published. Satoshi Nakamoto is a pseudonymous group or person or group.
In early 2009, Satoshi Nakamoto released Bitcoin to the public. A group of enthusiastic supporters began to exchange and mine the cryptocurrency. By late 2010, the first of what would eventually be many similar cryptocurrencies, including popular alternatives such as Litecoin, began to appear. In addition, the first public Bitcoin exchanges appeared around this time.
In late 2012, WordPress was the first major merchant to accept Bitcoin as a form of payment. Others, such as Newegg.com (an online electronics retailer), Microsoft, and Expedia, followed. Dozens of merchants now view the world's most popular cryptocurrency as a legitimate payment method. Though few of the other cryptocurrencies are widely accepted for merchant payments, there are increasingly active exchanges that allow holders to exchange them for Bitcoin or fiat currencies. This then provides critical liquidity and flexibility.
T&C's apply to each of the offers above, click "Visit Site" for more details.

Risk Warning: Users should be aware that all investment markets carry inherent risks, and past performance does not assure future results. Trading of any kind is a high-risk activity, and you could lose more than you initially deposited. CFDs are complex instruments and come with a high risk of losing money rapidly due to leverage. Between 73-89% of retail investor accounts lose money when trading CFDs. Please be sure you thoroughly understand the risks involved and do not invest money you cannot afford to lose. Your capital is at risk. Advertiser Disclosure: TopBrokers.Trade is an independent professional comparison site funded by referral fees. The compensation TopBrokers.Trade receives is derived from the companies and advertisements featured on the site. Due to this compensation, we can provide our users with a free comparison tool. Unfortunately we are unable to list every broker or exchange available, however, we do our best to review as many as possible.